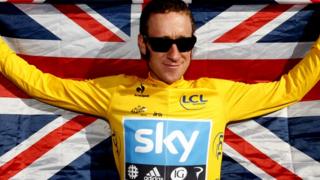 Reuters
What does it take to win the most famous road race in the world? Here are 5 reasons why Bradley Wiggins took on the Tour de France and won.
1. Teamwork
Wiggins was given complete and constant support by the rest of the riders in Team Sky.
Riders like Chris Froome put their own ambitions aside to make sure Wiggins stayed ahead and won. Froome was Wiggins' main support during the mountain stages.
Even world champion Mark Cavendish took his turn getting drinks for Wiggins and other team members to keep them hydrated.
2. Science
The British Tour cyclists face three main challenges - heat, altitude, and steep slopes.
To overcome this the team trained at a volcano in Tenerife. This meant they could get used to breathing at high altitude, in the heat, and cycling up very steep hills.
3. The route
Tour de France routes over recent years have had lots of steep, long climbs. Great if you're a cyclist who is good at going up steep slopes.
But this year's route was made for good all-rounders, like Wiggins.
It also had two long individual time trials where riders race alone against the clock - Wiggins' speciality.
4. Psychology
After coming fourth in 2009, and then 23rd in the 2010, Wiggins admitted he didn't think he would ever win the Tour de France.
He said, "I didn't really believe I could win the Tour. I thought, 'That's for someone else, kids from Kilburn don't win the Tour,'"
That's where Steve Peters, sport psychologist for the team, came in. He had already helped Victoria Pendleton and Chris Hoy to become medal winners.
He coached Wiggins and taught him to stay calm, focus on cycling and not get too emotional about winning or losing.
5. The man himself
Bradley Wiggins is an extremely talented athlete with very strong legs.
He became the first British athlete in 40 years to pick up three medals at one Games, during the 2004 Olympics. He then went on to win gold in the Team Pursuit at Beijing.
He is incredibly ambitious and his Olympic wins prove he thrives under pressure and when the eyes of the world are watching.
And that's exactly what he did on the Tour.