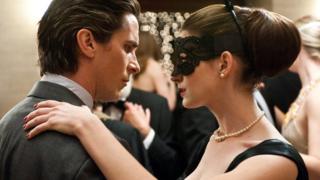 Warner Bros. Pictures
The final film in the Batman trilogy, The Dark Knight Rises, made around £103 million at cinemas in the US and Canada in its opening weekend.
That's the biggest opening on record for a film that wasn't made in 3D.
Despite the big figures, it sold fewer tickets than predicted after 12 people were killed by a gunman at a cinema in Colorado, USA.
The cinema had been showing the Batman film at the time.
A mark of respect
Warner Bros, the company behind the film, cancelled some of the film's publicity as a mark of respect.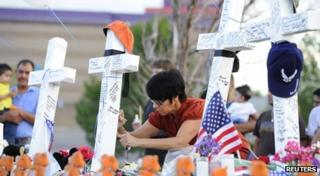 Reuters
A premiere in Paris was cancelled along with personal appearances by the cast and crew in Japan and Mexico.
Anne Hathaway, who stars in the film as Catwoman, said: "My heart aches and breaks for the lives taken and altered by this unfathomably senseless act."
US President Barack Obama met survivors when he visited the University of Colorado Hospital in Aurora.
He said he shared hugs and tears and vowed that "out of darkness a brighter day is going to come".