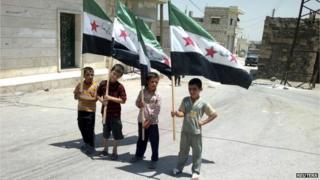 Reuters
The international charity War Child has accused all sides in the Syrian conflict of deliberately targeting children.
A report they've brought out says six big rules - aimed at protecting children - have been broken.
The rules include not to kill or kidnap children, or train them as child soldiers.
Some children have told their stories of living in a country that is at war.
Most Syrians trying to escape from the country are children.
One girl, who has left the country, said: "A bomb hit my house. A wall fell on my father, my mother, and my younger brother."
Her parents survived but she said: "One of my friends died in front of my eyes."
The charity War Child is working with some of the children to help them through the trouble.