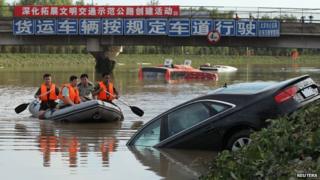 Reuters
The heaviest rainfall to hit China's capital Beijing in 60 years has left 37 people dead and caused huge flood damage.
The rain struck on Saturday afternoon and continued into the night, flooding major roads, according to reports.
Some of the people died after being struck by lightning.
By Sunday evening, more than 65,000 people had to be evacuated from their homes.
'Like a waterfall'
Some people were seen to be falling down manholes which they didn't realise were missing their covers.
British student Tom Smith, who has been living in China for a year, told the BBC it was like "standing under a waterfall."
He said: "All the manholes had vanished because the water was sitting on top of them. It looked very dangerous and very difficult to find where these holes were."