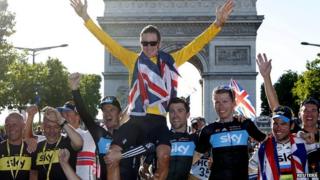 Reuters
Bradley Wiggins has made it to his historic Tour de France win - thanks to the sporting behaviour of his British team-mates.
During the Tour Chris Froome, who could have won, settled for second place after holding back to give Wiggins the overall lead.
Then, on the 20th stage in Paris, Wiggins himself held back in the final sprint to allow Cavendish to win the stage.
Earlier in the Tour, Wiggins slowed down to allow competitors to catch up after they'd got punctures from tacks on the road.
And, after his gruelling 20-day ordeal, Wiggins is back on his bike straight away to train with Team GB for the Olympics.
It's been described as top sportsmanship and typical of the spirit of the British cycling team.
The Prime Minister says it's a "perfect start" for the Olympics.
Are Wiggins and the cycling team an inspiration to you? Are they a great example of good sportsmanship?
Do they make other sports stars look selfish? And what will the Wiggins win mean for Team GB at the Olympics?
You've emailed in to let us know what you think and your responses are below.
Your comments
"I think Wiggins is a international role model to us all and should be really proud for his excellent sportsmanship."
Amnah, London, England
"I think other sports are not as inspirational as cycling. It's more of a team effort. Tennis you don't work with a team. If you don't have a team by your side you won't get very far. I think Bradley Wiggins is one of the best cyclists to ever live, along with Mark Cavendish, Tommy Simpson, Fabian Cancellara and Eddy Merckx."
Edward, Leicestershire, England
"I think it will inspire kids around the country to get on their bike."
Christopher, Wiltshire, England
"I think that Bradley Wiggins did extremely well. Now GB have won the Tour de France it has inspired me to get on my bike this summer. I never really liked cycling til now."
Maddy, North Yorkshire, England
"I think that Bradley Wiggins is very modest and an inspiration to use all, he is a sporting star!"
Freya, Aberdeenshire, Scotland
"Well done to the team! I think some other sports are selfish, but triathlons are also good examples because the Brownlee brothers wait for each other to cross the line."
Amie, West Yorkshire, England
"Why can't football players learn some respect for their sport and their team and opponents? All athletes should be like Wiggins and be humble and an inspiration!"
Millie, Leicestershire, England
"Football is often really selfish, as the fans are really mean when their teams lose."
Kezia, London, England
"I think other sports are selfish, yes. I am amazed by the sportmanship in cycling - it is really inspiring."
Katniss, Wales
"I don't think sports stars are being selfish, they are just celebrating what they have achieved."
Christina, Inverness, Scotland
"I think that kids all over the world will follow his example, now taking part in far more team games and events. It will really make other countries see how fantastic Britain is if we all follow Wiggins."
Lily, Cheshire, England
"One of the first things I'm doing when I get home is go out on my bike. Well done Bradley Wiggins!"
Helene, England