Doctor Who fans have flocked to Cardiff for the opening day of the hit show's biggest ever exhibition.
The Doctor Who Experience is based next to the BBC Wales Roath Lock studios where the sci-fi series is filmed.
It includes an interactive 'journey' where visitors can star in their own mini Doctor Who episode, with exclusive filmed scenes with Matt Smith.
There's also a massive collection of props and monsters, as well as specially-built sets.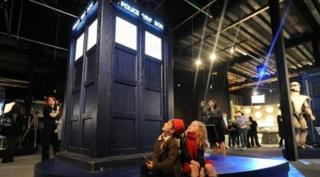 Hardcore fans will be pleased to hear that all of the Doctor's costumes, from way back in 1963 - when the show first began - up to now, are on display.
The Doctor Who Experience opened in London for a year between February 2011 and February 2012.