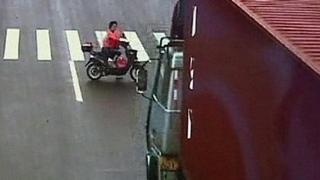 Lucky escape for woman in China
A woman has had a lucky escape after being hit by a lorry in China.
She rode through a red traffic light into the path of a lorry in Ningbo City in the east of China.
The woman managed to jump out of the way to avoid the vehicle at an intersection and was not hurt.
The electric bicycle she was riding was smashed when it was hit by the lorry.