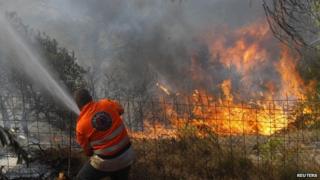 Reuters
Wildfires across parts of southern Europe are forcing hundreds of people to leave their homes.
The flames have been spreading across Greece, Spain and Portugal.
Winds have made the problem worse in Greece - fires have spread to the town of Keratea south of Athens.
Firefighters, helicopters and planes carrying water are trying to put the flames out. Lots of houses have been destroyed by the fires in Greece but no-one has been hurt.
It's not unusual for wildfires to break out in summer but a dry winter has made the problem much worse this year.