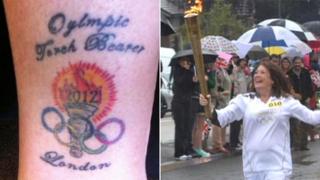 A woman who got a new tattoo to celebrate being in the Olympic torch relay was shocked to find out it had been spelt incorrectly.
Jerri Peterson from America carried the torch through Derby and decided to get a tattoo to remember the day.
But the tattoo artist wrote 'Oylmpic' not 'Olympic'!
She said: "I looked at it and I was so disappointed. I called my husband and he giggled a little bit. Then I started laughing about it and I've laughed ever since."
The tattoo artist offered to correct it but she's decided to keep it as it is.
She said: "He felt so bad when he found out... It's fine. It's the Oy-limpics - it's as unique as I am."