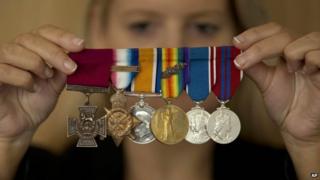 AP
The first Victoria Cross medal awarded to a private in World War I has been sold at auction for £276,000.
Private Sidney Godley received it in 1919 for an extraordinary act of bravery at the start of the four-year war.
In August 1914, he held his position and protected his comrades for over two hours in the face of enemy German fire, even though he was badly wounded.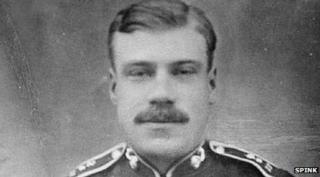 Spink
He was eventually captured by the Germans and held prisoner until he escaped four years later.
While he was held prisoner in Germany, his captors told him he'd been awarded the Victoria Cross and even invited him to dine with them one Christmas Day to celebrate!
Pte Godley died in 1957, at the age of 68.
The anonymous collector bid £230,000 for the medal, but the final amount came to £276,000 including other charges.