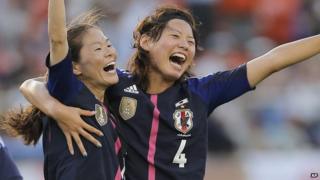 AP
You're world football champions flying in for the Olympics, so you'd think you'd get first class treatment, right? Wrong.
Japan's women footballers have complained about having to fly in economy class - while the male squad sat in business class.
"I guess it should have been the other way around," said star player Homare Sawa.
"Even just in terms of age, we are senior," the 33-year-old joked.
The Japanese FA said the men flew business because they're professionals, whereas the women are amateurs meaning they're all part-time players.
The women have a good chance of gold but the guys aren't expected to get a medal.
Sawa said her team were given business class seats last year, after they won the World Cup.
Most of Japan's Olympic athletes were given economy class seats for their journey.