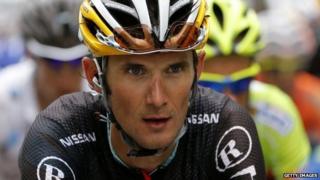 Getty Images
Cyclist Frank Schleck from Luxembourg is out of this year's Tour de France after failing a drugs test.
The 32-year-old finished third in last year's race. He tested positive for a banned drug called Xipamide.
Cycling's world governing body called the Union Cycliste Internationale asked Schleck to leave the Tour after the drug was found in a urine sample.
Although he was not suspended, his team decided to withdraw him from the race. He now has time to explain why the drug was in his system.
Philippe Maertens who is a spokesman for Frank Schleck's team said: "It's a shock for everybody. We're having a good Tour de France.
"Without Frank Schleck it's going to be harder. All our riders are working for one goal. When something happens like this you can imagine they are not happy."
Schleck was 12th in this year's Tour, nine minutes and 45 seconds behind the leader British cyclist Bradley Wiggins.