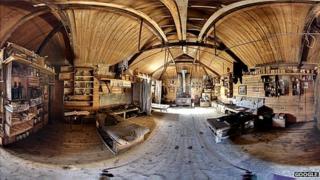 Google
Ever wondered what it was like to go on an expedition to the south pole 100 years ago? Now there's something to help you imagine!
Photos of the huts built by the first Antarctic explorers have been put online by Google Maps, along with a photo of the south pole itself.
Sir Ernest Shackleton attempted to reach to the south pole in 1908, and Captain Robert Falcon Scott in 1911.
The cabins were used as bases to rest, and still contain the men's belongings.
Frozen ketchup bottles
A charity from New Zealand has kept the wooden cabins in good shape, and worked with the team from Google to get the pictures taken.
Users can navigate the 360-degree photographs to see some of the kit and supplies used by both expeditions.
Shackleton's hut still has about 5,000 of his team's belongings including books, clothing and canned food.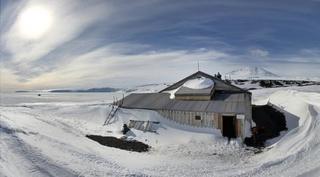 Google
Scott's hut still contains over 8,000 items from his attempt, including ketchup bottles and sugar cubes.
They've all been preserved because of the freezing temperatures.
Shackleton's expedition team was the first to climb the volcano Mount Erebus, but bad weather and lack of supplies meant they had to turn back before they got to the south pole.
But it was the furthest south on the earth that anyone had reached at the time and they returned to the UK as heroes.
Scott and his team did make it to the south pole but they died in freezing temperatures on their way back.