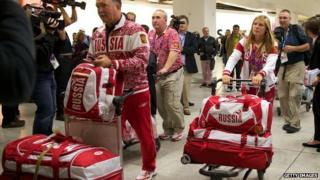 Getty Images
Athletes from all over the world are arriving in the UK, but before they head to London many are training in different parts of country.
Lots are at Universities or near sports complexes where they can squeeze in that last-minute training before the big event.
Cameroon athletes have headed to Aberdeen and Chinese competitors are training in Leeds.
We asked if there any Olympic teams staying in your town, or training nearby.
This chat page is now closed - thanks for all your comments. Here are some of them.
Your comments
"There are some Australian athletes training in a school near my house - we will get to meet them and talk to them later this month."
Katie, Tonbridge, England
"I was going past our local open air swimming pool when I saw many Malawi athletes going into to the building!"
David, Cheltenham, England
"There are swimmers from Nepal swimming in my local swimming pool - my dad spoke to the coach and one of them is competing on the day we're watching swimming at the Olympics."
Astrid, Canterbury, England
"The Chinese Hockey team are training in our city. I'm so pleased that teams have been spread out so that lots of people can see them! Go Team GB!"
Hannah, Wakefield, England
"A couple of athletes from the Malawi team came to my schools sports day - we were able to talk to them and they gave us advice!"
Isabella, Cheltenham, England
"The Kenyan swimming team have been training at the pool where I have lessons."
Kiera, Bristol, England
"My Mum and I saw Usain Bolt going into the University of Birmingham."
Charlie, Birmingham, England
"I was playing football in the Aberdeen Sports Village and saw some Cameroon athletes - I even watched a Scotland v Cameroon football match!"
Amy, Aberdeen, Scotland
"I went to the Aquatic Centre in Dublin and met the US team and had a swimming lesson with them!"
Kevin, Dublin, Ireland
"On Sunday the Malawi team came to our church and we had a picnic with them!"
Becca, Worcester, England
"At Tonbridge Boys School there are lots of athletes training - we can watch them train!"
Emily, Tonbridge, England
"Some athletes are staying where my Dad works. They visited my school and the teachers were even more excited than the kids!"
Rachel, Cheshire, England
"The Japanese swim team were in our sporting village preparing for the Olympics."
Kyle, Basildon, England
"When I went to the airport to pick up my grandparents there were athletes in red everywhere!"
Sarah, Manchester, England
"We're excited! The Olympic stadium is nearby and we got to finish school earlier than most!"
Sophie & Hannah, London, England
"My Nan lives near the University of Birmingham, that's where Jamaica are training!"
Lisa, Birmingham, England
"In Birmingham, the US and Jamaica teams are training and Team Jamaica are staying at Birmingham University."
Faron, Birmingham, England
"My granddad works in Tesco in Sheffield. He was working at night when lots of female basketball players came in!"
Courtney, Rochdale, England