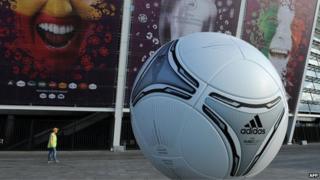 AFP
Bangor City's Les Davies has been nominated for Uefa's best player in Europe award.
The winger is on the 32-man shortlist along with players like Lionel Messi, Cristiano Ronaldo and Wayne Rooney.
The list is made up from nominations from journalists from across Europe.
There are 13 Premier League players up for the award, with five from champions Manchester City.
Read more: Who is Bangor City's Les Davies?