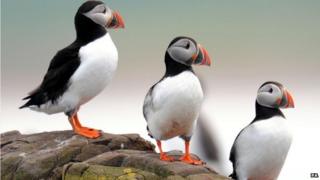 PA
The recent rainy weather in the UK has had disastrous effect on some wildlife, according to a report.
The cold and wet conditions have left many bees, bats, birds, butterflies and wildflowers struggling to survive, the National Trust has said.
Sea birds have been blown off cliffs by gales and garden birds have found it difficult to find food for their young.
Lots of puffins on the Farne Islands have drowned after their burrows flooded.
It comes after the wettest April to June on record, and heavy rain in July.
However, not all animals are struggling in the bad weather. Snails and slugs have thrived in the damp conditions.