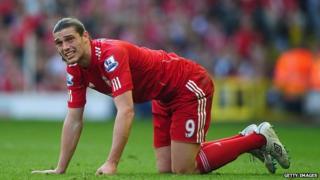 Getty Images
Why don't Liverpool want Andy Carroll? That's the question on many football fans' lips as it looks increasing likely that the £35 million striker could be on his way out of Anfield.
If you believe everything you hear, there's a growing list of clubs who want to sign the England international.
But why would a club that paid a club record fee for the ex-Newcastle man just a year and a half ago want to get rid of him?
Here's Newsround's top five reasons:
1: Liverpool have a new manager
The man who broke the record to sign Carroll was Kenny Dalglish.
He had £50 million burning a hole in his pocket after Fernando Torres joined Chelsea and, at the time, Carroll seemed like a good replacement.
But King Kenny was sacked as manager in May 2012 and former Swansea manager Brendan Rodgers took over.
A new man at the top usually means changes and it looks like Rodgers just doesn't fancy him.
2: They've signed another striker
Brendan Rodgers has wasted no time at all in splashing the cash on another top striker. Italy international Fabio Borini joined the Reds for £11 million from Roma.
The former Swansea and Chelsea forward has played for Rodgers before at both of those clubs so looks like he could be a firm favourite with the manager. With Luis Suarez also guaranteed a starting place that leaves Carroll as the odd man out.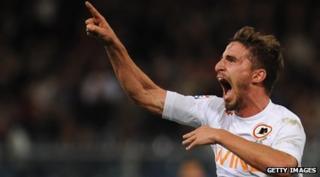 Getty Images
3: Carroll doesn't suit the new manager's style
Brendan Rodgers' teams usually play slick, passing football. Andy Carroll doesn't.
Carroll's a traditional British centre forward who loves heading the ball and being physical with defenders but Rodgers' teams don't tend to get the ball into the box much and rely on players who can play neat, intricate passes instead. The sale of the striker could free up funds for more players who like to pass the ball around.
4. His form at Liverpool
It's fair to say that Andy Carroll's form at Liverpool hasn't been great. With just 11 goals in 56 appearances he's not exactly heading for the Anfield hall of fame. That works out at just over £3 million a goal. Pricey.
5: Off the pitch issues
Things haven't been straight forward for the Gateshead-born player.
Former England manager Fabio Capello told him to drink less alcohol and get fitter and he's also been in trouble with the police too.
All things that could count against him as Brendan Rodgers starts his new era at Anfield.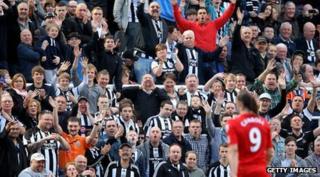 Getty Images