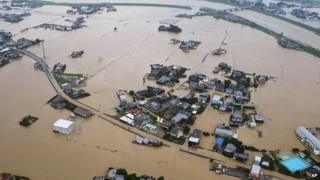 AP
At least 26 people have died and thousands have been left stranded after record rainfall in Japan.
Hundreds of thousands of people were told to leave their homes after a year's worth of rain fell in just a few days.
Rescue teams have been searching for missing people following flooding and landslides.
Food is being flown in to people who've been completely cut off by the rain and are stuck in their mountain homes.