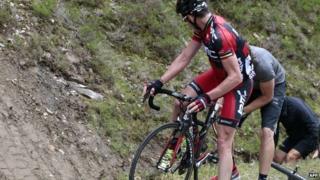 AFP
The Tour de France was thrown into chaos after vandals threw nails onto the road.
The 14th stage of the race saw 30 riders having to stop to repair punctures to their tyres, including the defending champion Cadel Evans.
It's thought that the nails were thrown on to the road deliberately.
The race leader, Bradley Wiggins, showed his sporting side by slowing the race down to let the riders affected catch up.
Race official Jean-Francois Pescheux said: "The nails were mainly thrown on the ground around 200m from the summit.
"It was obviously done on purpose. We have the tacks but we don't know who spread them."