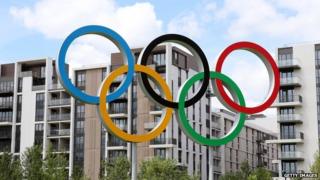 Getty Images
Thousands of athletes are beginning to arrive in London for the Olympic Games.
Loads of competitors will start moving in to the Olympic Village on Monday. They'll live and train there between now and the end of the Games.
One of the country's biggest airports, Heathrow, is expecting around 10,000 extra passengers to land there.
It's not just the athletes that the airport has to look after, it's their equipment too.
Big items that will be used in the games, like pole vaults, canoes and bicycles will also be arriving.
The village will house 16,000 athletes and officials at its peak.