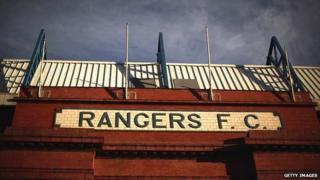 Getty Images
Rangers Football Club will have to play in the Scottish Third Division from next season.
The decision was made at a meeting of the Scottish Football League clubs, where most of the 30 teams voted to send them to the bottom tier.
Earlier this month, an application by Rangers to return to the Scottish Premier League was rejected.
It follows the Glasgow club's massive money problems.
Businessman Charles Green bought Rangers in June.
He had to create a new company called Rangers Newco because of the club's huge debts.
The old club no longer exists and the side lost its registrations with the Scottish FA and SPL - so Rangers is now being treated like a new team.
Rangers have been Scottish champions a record 54 times.