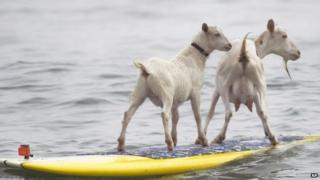 AP
Two goats have taken to the waves in California.
Goatee the nanny goat and her kid Pismo stood on surfboards and glided along the water at San Onofre State Beach in Orange County.
Their owner, Dana McGregor, initially got Goatee in to eat unwanted plants in his garden but soon started taking her out on his surfing trips.
When baby Pismo was born in March, he started putting him on the board too.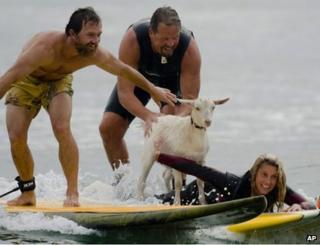 AP
He teamed up with local surfers Mark and Debbie Gale to try to get both goats to ride on one surfboard together.
He said: "They did a pretty good job. They caught the first wave and it was pretty good, I love surfing so I figured the goats would like surfing."