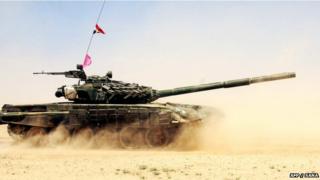 AFP / SANA
There are reports of a deadly attack on a village in the north of Syria.
Both sides agreed many people were killed in Tremseh, but have totally different versions of what happened.
Opposition groups in the country say around 200 people have been killed.
Residents told the activists that the village, in Hama province, was attacked with helicopter gunships and tanks.
Groups who are against the ruler are blaming the Syrian army, but the government says terrorists are responsible. It hasn't been possible to confirm the reports or how many people have died.
If it is confirmed, it will be one of the most deadly attacks since the conflict began.
Protests
Yesterday there were protests against Syria"s President Bashar al-Assad, outside the Syrian embassy in Amman.
As many as 16,000 people are thought to have been killed since the uprising against Bashar al-Assad's regime began in March 2011.
It is difficult to check if reports of killings are accurare because journalists aren't allowed to move freely in the country.