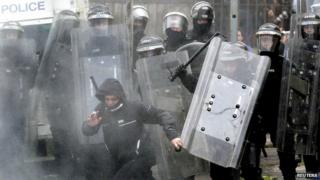 Reuters
Nine police officers have been injured during violence in Belfast.
The trouble began in the north of the city following a march by Protestants.
Police fired water cannon at Catholic protestors after fighting broke out at the march.
Shots were fired at the police and bricks and petrol bombs were thrown.
Marching
Marches happen every year at this time and violence sometimes occurs because it reminds people of the political differences between Protestants and Catholics in Northern Ireland.
There are lots of different marches but the one held on 12 July celebrates a victory of Protestants over Catholics in the 17th century, called the Battle of the Boyne.
For some Catholics the marches make them angry and remind them of the divisions in the country.
From the 1970s to the 1990s there was a lot of violence between Catholics and Protestants, thousands of people died in the conflict which was known as the Troubles.
Although things have improved since then here are still tensions between the communities.