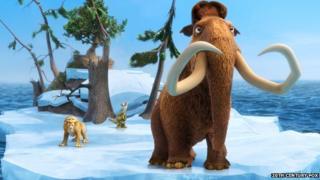 20th century fox
Ice Age: Continental Drift is the latest movie about the adventures of a woolly mammoth, sabre-toothed tiger and sloth. It's the fourth film about their wacky lives and is full of new characters like an evil ape and his band of pirates.
It's an animation film made using computers but voiced by actors. The Ice Age movies are some of the most successful animated movies in history and have been going now for 10 years. If you like The Wanted, then you'll be pleased to hear Chasing The Sun is the movie's theme song!
Read Joe's review of the film below...
When's it out?
It's in cinemas from 13 July (rated U).
The plot
A massive shift in the Earth's crust makes the continents split apart and Manny, Diego and Sid get trapped on an ice raft that's floating miles away from their friends and family.
So the race is on to get back to the mainland, but they have trouble when they bump into a band of evil pirate animals that try to keep them prisoner. Will the gang break free of the pirates and make it back to the rest of the herd? That's a secret you'll have to find out by watching the movie!
The stars
The main characters of the movie are voiced by the same actors as when the series started, but there are some new voices that you might recognise. British actor Nick Frost (from Tintin) plays a big fat silly elephant seal called Flynn and mega-famous singer/actress Jenifer Lopez plays a sneaky sabre-toothed tiger called Shira.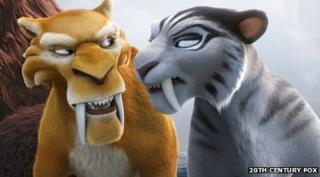 20th century fox
Hit or miss?
This movie is a lot of fun, especially when Sid the sloth is involved! He's a really silly character who never seems to understand what's going on, which can be very funny.
The new characters are pretty cool as well, like Sid's nan and her mysterious pet Precious, who makes a very grand entrance at the end of the film. I also really liked the baddie Captain Gut who was a mixture between a pirate and a massive baboon.
There were some characters that I found a bit annoying like the two possums and Manny's naughty daughter. Whenever they came on screen I got a bit bored!
The story is good and the movie looks and sounds amazing with massive landscapes and lots of music and action. Some of the best bits are when our heroes clash with the bad pirates and it's fun to see them fight without actually hurting each other.
If you're a fan of The Wanted listen out for their song Chasing The Sun at the party near the beginning of the film. I forgot and missed it completely!
NR rating: 4 out of 5