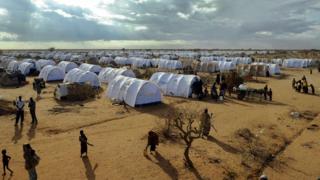 'Millions needed' for Dadaab camp
Charities working at the world's largest refugee camp in Kenya say they're running out of money to help people there.
Eight organisations, including Oxfam and Save the Children, say millions of pounds are needed to pay for food, shelter and medicine at the Dadaab camp.
Almost half a million people now live at Dadaab, which opened in 1991.
Most of them are from neighbouring Somalia and are fleeing from conflict and drought.
Ricky visited Dadaab last year and he's been looking into the latest problems there.
Click here to watch Newsround's Children of the Drought special from last year