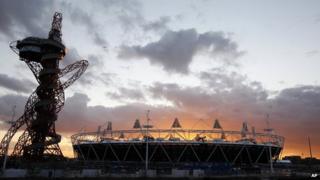 AP
Thousands of extra troops are needed to help guard the Olympics because there aren't enough trained security staff.
3,500 extra soldiers are being asked to step in and help out with security at the Games. Some of them have only just got back from serving in Afghanistan.
It's all because security company G4S, which is providing security for the games, hasn't been able to train enough people in time.
The army was always going to help run the Games but now there will be more soldiers working there over the summer. Some of them might have to cancel their holidays to be there.
G4S will have overall control of Olympic venue security. They will work with troops to search and check people going into events.
Highly skilled
The government says that there will be no negative impact from all this on security at the Games.
Home Secretary Theresa May said: "I can confirm that there remains no specific security threat to the Games and the threat level remains unchanged."
She added: "Our troops are highly skilled and highly trained and this task is the most important facing our nation today."
In total more than 20,000 security officers will be working at the events to make sure everything runs smoothly.