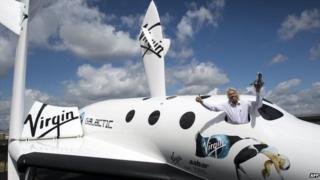 Space tourism by 2016
If you've ever dreamt of going into space, then this one is for you!
Virgin Galactic boss Richard Branson has been talking about his plans to open up space to tourists.
So far Branson says 529 people, thought to include Hollywood stars Brad Pitt and Angelina Jolie, have signed up to his SS2 trip which will take passengers up to the edge of space.
The first flights are hoped to take place in 2016 but they aren't cheap - each one costs over £100,000.