If you've ever dreamt of going into space, then this one is for you!
Virgin Galactic boss Richard Branson has been talking about his plans to open up space to tourists.
So far Branson says 529 people, thought to include Hollywood stars Brad Pitt and Angelina Jolie, have signed up to his SS2 trip which will take passengers up to the edge of space.
The first flights are hoped to take place in 2016 but they aren't cheap - each one costs over £100,000.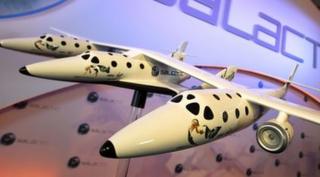 AFP
So what do you get for your money?
Well you, a pilot and five lucky passengers can blast off from a special launch pad in New Mexico.
The rocket will then take passengers 94 miles high to the start of space, where they will be able to float around in the cabin.
The SS2 will then become a glider and bring the space tourists back down to earth again.
Richard Branson has said that he and his two children will be on the first flight.
The Virgin boss also announced the development of Launcher One - a new air-launched rocket specifically designed to deliver small satellites into orbit.
It'll be developed in partnership with a British company called Surrey Satellite Technology from Guildford in Surrey.