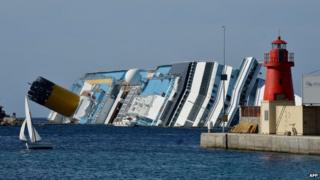 AFP
The captain of the wrecked cruise liner the Costa Concordia had said he is sorry for the accident.
The disaster in January 2012 left 32 people dead when the Costa Concordia struck a rock and turned over, near the coast of Italy.
Francesco Schettino told Italian TV that he thought constantly about the victims of the disaster.
But he insisted others should share the blame, claiming another officer was in control of the ship at the time.