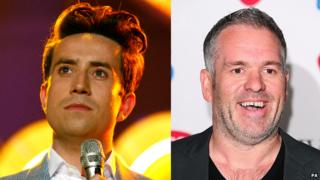 PA
Chris Moyles is leaving the BBC Radio 1 breakfast show at the end of September.
He made the announcement to his listeners on Wednesday morning. The new host will be Nick Grimshaw who's been presenting a late night show on Radio 1.
Moyles is the longest serving breakfast show host ever at the station - he's done it since 2004.
But Radio 1 is under pressure to get younger presenters.
Are Radio 1 presenters too old?
Some said Moyles was getting too old compared to the age of his listeners. Chris Moyles is 37. Nick Grimshaw is 27.
Chris and his sidekick 'Comedy' Dave Vitty helped Radio 1 win two big Sony Gold awards, and in 2011 they set a world record for the longest music show by a radio team. They were on air for 52 hours and raised almost £3million for Comic Relief.
Chris will be staying at the station until 2014 and is currently is discussions about hosting a new show.
This comments page is now closed but check out below to see what some of you said...
Your comments
"Chris Moyles isn't too old. I listen to him in the morning and I'm 12! He always has something good to say and he is very entertaining."
Armani, Berkshire, England
"Chris is good at doing it. He makes my mum dance round the kitchen like a loony :)"
Olly, Suffolk, England
"Nick wouldn't be as good. Chris has worked longer, but 37 is not that old, you get older people than him. It's quite young to some people like my mum."
Rachel, Paris, France
"Nick may be a great replacement considering he is 10 years younger, he may a bit more up to date with the latest trends."
Alexa, Surrey, England
"I think it's fair to let everyone have a chance at doing a job. Nick Grimshaw will do a great job on Radio 1 and draw in more younger listeners."
Hannah, Devon, England
"I think Nick Grimshaw is a good replacement because he has a good sense of humour. It is good for a change because Chris can't be on the radio forever, but it also shouldn't be judged by a matter of age."
Megan, Staffordshire, England
"I don't think its a good idea to replace Chris Moyles with someone younger just to get youngsters listening more. I think they should choose someone else the same age as him."
Ellie, Devon, England
"Me and my mum don't like listening to Chris Moyles though because he is always putting down the people who are on the show with him so for us this is a good change."
Louise, Lancashire, England
"Chris has always made me laugh. When I was 7 we used to sit and listen to him in the morning while we got ready for school."
Roxanne, Edinburgh, Scotland
"I think it is kind of a good idea and the people on BBC Radio 1 are a little old."
Ayesha, Leeds, England
"I don't think that Chris Moyles should be replaced with Nick Grimshaw. Chris is my role model. Lots of people look up to him."
Charlotte, West Midlands, England
"I think it is a good idea, but having a younger presenter will not make Radio 1's listeners younger."
Chloe, Colchester, England
"You can never be too old and I think they HAVE made a mistake."
Holly, Manchester, England
"I think it is great Nick Grimshaw is replacing Chris Moyles. It will get younger people into the radio, but Chris will be missed."
Megan, Ashford, England
"Chris Moyles should stay on as a Radio 1 presenter until he's ready to go because he's really awesome and very funny and I enjoy listening to him."
Max, Lancaster, England
"I don't think it's right. It's ageism which is wrong. The BBC have already got into trouble for this before with presenters."
Kara, West Sussex, England
"I think he (Chris) is brilliant at his job. Greg James would be a better choice to replace him."
Abby, Buckinghamshire, England
"I love Chris Moyles in the morning, but maybe some younger DJs might be better."
Helen, West Lothian, Scotland
"Chris isn't that old! He is so funny and he makes me smile in the morning. Sorry Nick!"
Niamh, Sheffield, England
"Chris Moyles makes me wake up in a happy mood and Nick Grimshaw is not good and when I heard this, I cried."
Hannah, Lancashire, England
"I think Chris Moyles leaving Radio 1 is a BAD idea. Me and my mum love listening to him on a morning, it won't be the same again!!"
Rebecca, Doncaster, England
"Chris Moyles is really funny and he is a good DJ and plays lots of funny games. I prefer him even if he doesn't play as much music!!!"
Eleanor, Halifax, England