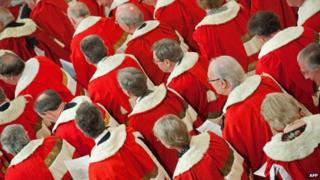 AFP
Plans to reform the way the House of Lords works have been passed by MPs.
But the coalition government suffered its biggest rebellion since coming to power, after 91 Conservative MPs voted against the changes.
There were supposed to be two votes held but one had to be cancelled because there wasn't enough support for it.
Deputy Prime Minister Nick Clegg still said that the night had been a "huge triumph".
Parliament is made up of two houses, the House of Commons and the House of Lords which work quite differently.
The changes still need to be approved a second time by MPs in the House of Commons before anything is introduced.
If all the plans go through then the number of Lords will be cut from 826 to 450.
The government also wants four-fifths of members of a reformed House of Lords to be voted in by the public.
The next vote on the issue is likely to be held in the autumn.