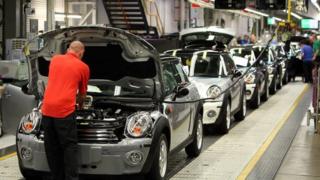 More money to build Minis
Lots more Minis look set to hit our roads soon.
BMW, the company that makes the cars, says it will invest £250 million into building more of them.
The money will be used at its factories in Oxford, Birmingham and Swindon over the next three years.
It's good news for the car business in the UK. More than 5000 British workers are involved in the production of the Mini.
The Mini was first made in 1959 and became an a famous example of British design in the 1960s.
The main plant at Cowley, Oxford, has produced more than two million Mini models since 2001.
BMW's Graham Biggs told the BBC: "This investment is about securing jobs for the future.
"We tend to build cars where we sell them, so the UK is a very important market for us - about the fourth largest in the world."