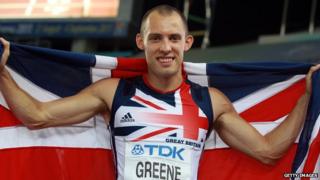 Getty Images
Dai Greene has said he's honoured to be Team GB's athletics captain at this summer's Olympics.
The Welsh 400-metre hurdler said it was an easy decision, after he was asked to lead the squad by the UK athletics head coach.
Greene said: "He made me aware of how it would bring extra hassle when we arrived in the Olympic Village and said he would therefore give me time to think about it.
"But, really, it was a no-brainer for me. I was always going to say yes!"
The 26-year-old captained the Great Britain squad at the European Championships in Sweden.
This will be his first time competing at an Olympics, but he is one of Team GB's top track gold medal hopes.