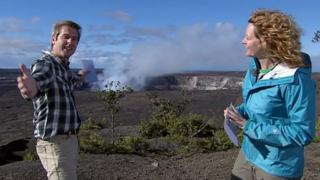 BBC launch Volcano Live programme from Hawaii
Ever wondered wanted to know more about volcanoes or see one erupting? Well the BBC is finding out all about them in a special programme from Hawaii.
Hawaii is made up of a string of islands formed by magma erupting from the seabed and creating volcanoes.
The show will feature volcanoes erupting and will look at some of the most famous volcanic eruptions in history.
Professor Iain Stewart and Kate Humble will present Volcano Livefrom Kilauea on Hawaii, the world's most active volcano - starting on BBC Two on 9 July.