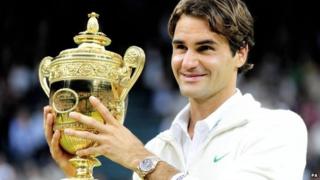 PA
A bet placed on Wimbledon champion Roger Federer nearly ten years ago has won more than £100,000 for the charity Oxfam.
In 2003 Nick Newlife made a bet of £1,520, at odds of 66/1, that the Swiss tennis star would win seven Wimbledon titles by 2019.
Mr Newlife died in 2009 but left the betting slip to Oxfam in his will.
Federer's triumph over Britain's Andy Murray in Sunday's Wimbledon final means the charity will now collect a payout of £101,840.