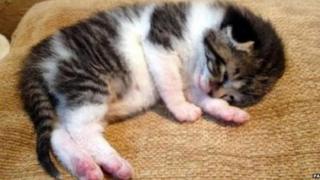 PA
A three-week-old kitten who was dumped in a bin narrowly escaped being crushed by a recycling truck in Devon.
The female tortoiseshell, named Lucky, was emptied into the back of a waste truck. Its crusher was stopped by two bin men who heard the kitten's cries.
The men, who were completing their round in Plymouth, saw the kitten fall from the crusher's blades.
Lucky was unharmed and has been adopted by staff at Devon Contract Waste.
Donna Cook, from the company, said: "They were picking up recycling and when the truck up-ended, and as the crusher started pulling back the cardboard, they heard her screams.
"They stopped the crusher and out fell the kitten from its blades."
Lucky was taken to a local vet but was not injured in the incident.