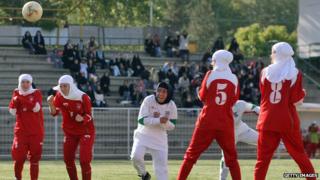 Getty Images
Football's rule makers have agreed to allow Muslim women to wear headscarves when they're playing.
The decision reverses a ban on the Islamic hijab that was introduced for Fifa competitions five years ago.
Headscarves had not been allowed due to safety concerns and because they were not recognised in the laws of the game.
But that has now all changed after International Football Association Board decided to change the rules.
"Safety and medical issues have been removed for the use of the headscarf," Fifa secretary general Jerome Valcke said.
Last year the women's football team from Iran were prevented from playing their 2012 Olympic second-round qualifying match against Jordan because they refused to remove their hijabs before kick-off.
Iran, who had topped their group in the first round of Olympic qualifiers, were punished with an automatic 3-0 defeat, which ended their dreams of qualifying for the London games.
Other sports such as rugby and taekwondo already allow the use of the hijab.