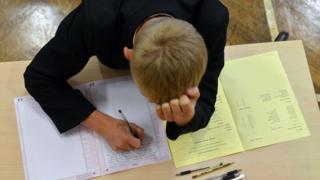 All 11-year-olds are going to have to sit a new grammar exam at school.
Up to 600,000 pupils a year will have to take the test, because the government wants the reading and writing standards of kids to improve before they reach secondary school.
Children will be tested on the proper use of apostrophes and the difference between nouns, verbs and adjectives.
But some teachers are against it, saying it'll put too much pressure on kids.
The government wants to introduce the new exam as they think children are not learning the basics of reading and writing at primary school.
They say this means that many kids then struggle to write essays when they get to secondary school.
Pupils will also be expected to use 'fluent and joined' handwriting in the test.
The plans are set to be introduced in all state schools next year, but some teachers have already threatened to say 'no', because they don't think it is the right thing to do.