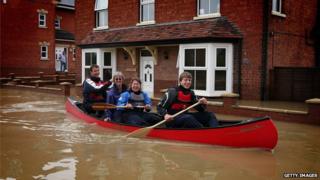 Getty Images
Experts are warning of floods in many parts of the UK, with a month's rain due to fall in 24 hours.
People and homes most at risk are those in the north-east of England, but 85 flood warnings have been issued across the whole of the UK.
Weather bosses at the MET office have issued an amber warning, which tells people to be "prepared".
Transport links across the country are expected to be affected too.
In some parts of the country up to 60mm of rainfall is expected, the amount that usually falls during the whole of July.
Parts of Durham in the north-east of England have already been hit by flash flooding, causing some road closures on Thursday afternoon.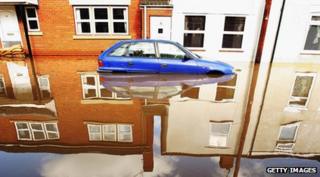 Getty Images
Craig Woolhouse from the Environment Agency said: "We are expecting some very significant flooding in the coming days across large parts of the country.
"We would strongly urge people to sign up to flood warnings, keep a close eye on the forecasts for their area and be prepared".
Your Comments:
"My whole street was flooded and for one and a half hours the power was out and no cars were allowed in or out of the street."
Ewan, Finaghy, Belfast
"We spent half an hour at school this morning and then got sent home. The water was up to our ankles!"
Grace, Nottingham, England
"We have had a lot of rain here but no flooding, although it is still ruining our summer holidays!"
Christina, Inverness, Scotland
"Our school has shut because the IT suite, playgrounds, classrooms and kitchen have flooded!"
Anna, Derby, England
"We live near Guildford. It has been pouring with rain all day but we have not been flooded yet, we have missed our playtime though."
Owl's Class, Surrey, England
"Part of our school has flooded and the corridors were slippery and unsafe so we were sent home after an hour and a half in school!"
Hannah, West Yorkshire, England
"We have had some severe rain fall here, there is some flooding and the met office sent out a warning that there will be bad flooding in some places."
Louise, Norfolk, England
"I was meant to go to school but when I got out side it was pouring down with rain and there was lightning. School has been cancelled now."
Kerry, Huddersfield, England