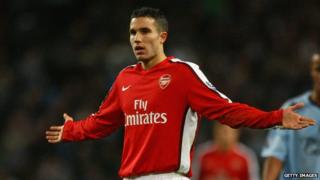 Getty Images
Footballer Robin Van Persie has announced he will not extend his contract with Arsenal which runs out next summer.
He is one of their best players and scored 37 goals last season.
Arsenal lost two key players last summer when Cesc Fabregas and Samir Nasri left.
Manager Arsene Wenger recently declared the club must keep the player "at all costs".
In a statement on his website Van Persie said "I've thought long and hard about it, but I have decided not to extend my contract.
I am very proud of being part of this fantastic club for the last 8 years."