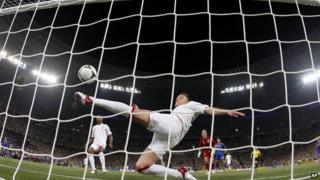 AP
Goal line technology has been given the go ahead after a meeting of the International Football Association Board.
Everyone at the meeting voted to approve the use of technology to help decide when a goal has been scored.
The argument for goal-line technology grew after Ukraine were denied an equaliser in a their one nil defeat by England at Euro 2012.
Two systems, Hawk-Eye and GoalRef, have been approved by the IFAB after passing a series of scientific tests.
How does Hawk-Eye work?
Hawk-Eye's system works by using six cameras per goal to track the ball on the pitch.
The system's software then uses "triangulation" to pinpoint the exact location of the football.
If the ball crosses the goal-line then an signal is sent to the referee's watch to indicate a goal has been scored.
The whole process takes less than a second to complete.
How does GoalRef work?
GoalRef uses a microchip in the ball and the use of low magnetic waves around the goal.
The system then detects any change in the magnetic field on or behind the goal-line to determine if a goal has been scored.
The process takes under one second with a message relayed to the referee.