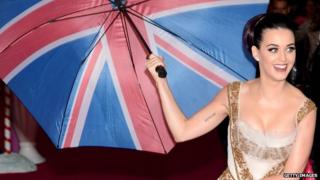 Getty Images
Katy Perry's been in London for the European premiere of her new film.
It's called Part Of Me and is a 3D behind-the-scenes look at the singer's life over the past year, which includes lots of live performances.
Hundreds of screaming fans turned out to see her on the red carpet, which was covered in gigantic sweets and lollipops.
The film is made by the same people behind Justin Bieber's 3D movie Never Say Never.
Katy said: "I learned a lot of lessons of course along the way, very valuable valuable lessons.
"I'm just hoping that people are inspired to kind of stick to their guns and not change themselves... not conform, not fit in, or think that they have to, in order to succeed."