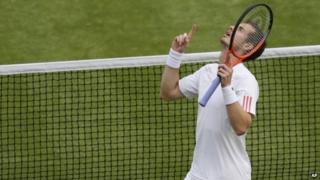 AP
It's that time again... Andy Murray is through to the Wimbledon semi-finals... Murray Mania is growing and growing... Just two matches to go until...
OK, OK let's not get ahead of ourselves! We've been here loads of times before!
The British number one has now reached the semi-finals of Wimbledon four years in a row, but he's never got to the final let alone win it.
But... usually he faces someone like Rafael Nadal in the semis, but he's out so it's Jo-Wilfried Tsonga who Andy has beaten lots of times.
We asked you what you think Andy's chances are.
Whatever you think- we want to know!
Your Comments
"I think Andy can make it to the final because he's beaten Jo-Wilfried Tsonga before. But I don't think he'll win because he'll either face Djokovic or Federer in the final who are both higher in the world rankings."
Tom, London, England
"I think Andy Murray can do it because I have been watching his matches and has been playing great, come on Andy."
Liam, London, England
"I think Andy can beat Tsonga because he has done it before but as for the final...let's wait and see!"
James, Co. Galway, Ireland
"I think Andy Murray will win in the semi-finals, but even if he gets through to the finals I don't think he could beat Djokovic or Federer."
Natalie, London, England
"I don't think Andy can make it because Federer is so good."
Anna, Ballymena, N Ireland
"Well Andy Murray has done a great job so far. I think it will be a hard challenge against Djokovic, he has done very well and won loads of games against people. I hope Murray wins."
Lucy, Hampshire, England
"If anything I think we are putting too much pressure on him. He has the Olympics as well, but definitely too much pressure is getting put on him to win Wimbledon."
Jordan, Angus, Scotland
"Move over Novak- Murray's in town!!!"
Rachel, West Midlands, England
"I don't really know as the people he may have to play in the final are tough, so I'm not really sure, but he can do it for GB!"
Mehnaz, Birmingham, England
"I think Andy Murray will win Wimbledon because he has played really hard matches and won them all but it will be hard because Jo-Wilfried Tsonga is also good, but I think Andy Murray will win!!!"
Alasdair, Scotland
"I think Murray will make it to the final but then he is going to lose big time."
Harvey, Brighton, England