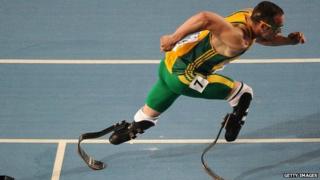 Getty Images
Oscar Pistorius is set to be the first runner who doesn't have real legs to run at the Olympics.
He has been picked after by South Africa for 400m and the 4x400m relay squad at London 2012.
Pistorius was born in Johannesburg and had to have both legs removed below the knee when he was a baby because he was born without lower leg bones.
"Today is truly one of the proudest days of my life," said Pistorius, who will also compete in the Paralympics.
"It is a real honour and I am so pleased that years of hard work, determination and sacrifice have all come together."
He is known at the 'Blade Runner' because of the special running legs he wears to compete.
Some people said he shouldn't be allowed to run against able bodied athletes because the springy legs gave him an unfair advantage but a rule against him taking part was overturned in 2008.
Pistorius will also compete at the Paralympic Games in London in the 100m, 200m, 400m and 4x100m relay.