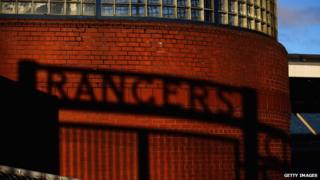 Getty Images
Rangers will not be playing football in the Scottish Premier League next season after an application to return to the top flight was rejected by other clubs in the league.
In February 2012 the club ran out of money with debts of more than £130 million. Businessman Charles Green bought it and made it into a new company called Rangers Newco.
The old club no longer exists and the side lost its registration with the Scottish FA.
There was a big debate over which league the new football club should play in next season, but after a vote it was decided they won't return to the SPL.