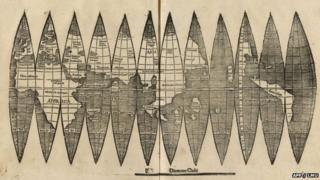 AFP / LMU
A copy of a rare 16th century map known as "the birth certificate of America" has been discovered in Germany.
The map, by a famous map-drawer called Martin Waldseemueller, is said to be the first to name the newly-discovered land of America.
It was thought that Waldseemueller had only made four copies, but researchers have now discovered this fifth version.
It was found between the pages of an old 19th century book.
The map is being put online from 4 July, as part of annual Independence Day celebrations in the US.
It is thought that Waldseemueller used information from early transatlantic voyages to form a picture of America.
The boomerang shape of the continent he drew is nothing like the North and South America shapes we know today.
How did America get it's name?
Waldseemueller named the new land after Italian explorer Amerigo Vespucci.
He thought Vespucci had been the first to discover it, rather than Christopher Columbus.