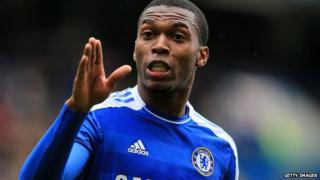 Getty Images
Striker Daniel Sturridge is being treated after tests confirmed he has viral meningitis, says his Chelsea boss Roberto Di Matteo.
A week ago Sturridge was named in Stuart Pearce's Great Britain Olympic football squad.
But he was taken ill over the weekend and had tests at a hospital in London.
Di Matteo said he expects Sturridge to recover in time for Team GB's first football match of the Olympics.
What is meningitis?
Meningitis is a disease which can make people very ill.
It's an infection affects the brain and spine.
There are two types - bacterial, which is severe, and viral which is less serious.
One of the most common signs is a rash of tiny red or brown marks on the skin which can change colour.
There's a test to see if it may be to do with meningitis or not - press a glass against the rash.
If the marks do not fade then this may be a rash from a form of meningitis.
As well as a rash, some of the other things you can feel with meningitis are:
The worst headache you've ever had

Being sick

Fever

Stiff Neck

Confusion

A dislike of bright lights
The risk of getting meningitis is very low. If you are feeling unwell, it's important to always tell your parents.