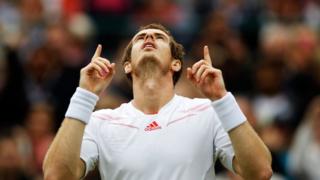 Getty Images
Andy Murray is through to the quarter finals of Wimbledon. He beat Marin Cilic in three sets.
The match started on Monday but was called off after rain stopped play.
On Tuesday lunchtime Cilic and Murray walked onto Court Number One and restarted the match, only to run off moments later with more rain.
There was a delay of almost an hour before Murray finally defeated Cilic's hopes with his straight sets victory.
The Brit will now face David Ferrer after he beat Juan Martin del Potro in straight sets.
The next game - the quarter-final on Wednesday - could be tough for Murray.
The fourth round rain delay means he won't have a full day's break between games.