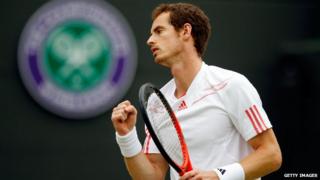 Getty Images
Andy Murray was forced to stop playing his fourth round match at Wimbledon on Monday, because of bad weather.
Murray lost his first game to Marin Cilic from Croatia but then fought back to win the first set 7-5.
He was leading 3-1 in the second set when rain stopped play.
They're due to start again at midday on Tuesday, but with forecasts for more rain it's not looking too hopeful whether they'll be able to finish.